ShoppingNight staat op vrijdag 30 juni volledig in het teken van de bekende Nederlandse schilder Piet Mondriaan en het feit dat 100 jaar geleden de kunststroom de Stijl ontstond. Het thema van ShoppingNight "Boogie Woogie Wonderland", is geïnspireerd op zijn laatste en misschien wel meest beroemde schilderij "Victory Boogiewoogie". Een kunstwerk met alleen de primaire kleuren rood, blauw en geel, en zwarte, witte en grijze accenten. Het is de dynamiek van de metropool New York by Night die je ziet. De Haagse Binnenstad kleurt deze avond ook rood, geel, blauw, wit en zwart en viert de nacht met de winkels open tot middernacht, instore activiteiten en bijzonder entertainment op straat. Beleef de buzz van een nacht in New York samen met Piet Mondriaan.
Shop till you drop
De ondernemers in de binnenstad maken er vanaf 17.00 uur tot middernacht een feestje van. Swingende DJ beats en lekkere cocktails en hapjes bij binnenkomst. Leuke shopacties zoals, hoe later het wordt hoe hoger de kortingen en natuurlijk oneindig veel leuke shop entertainment. Klik hieronder verder voor het programma per kleurzone!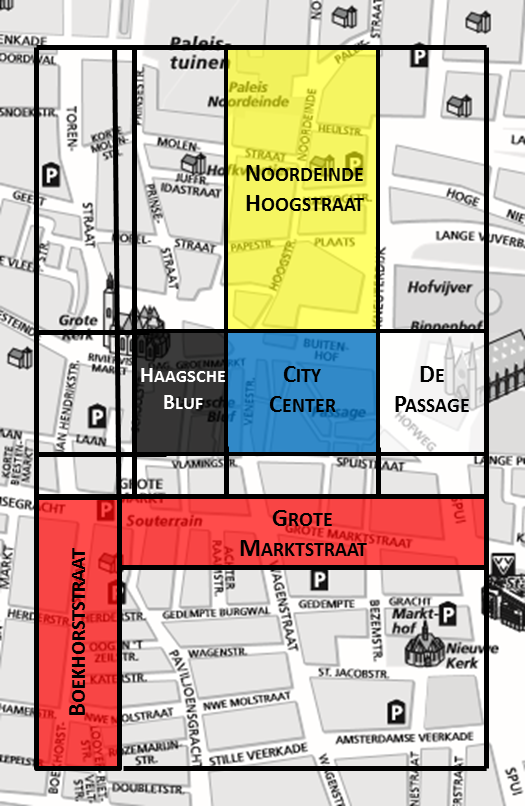 This year ShoppingNight The Hague is inspired by the famous Dutch painter Piet Mondrian and the celebration of the fact that it's been 100 years since 'The Style' was introduced. The theme of ShoppingNight this year is 'Boogie Woogie Wonderland', based on Mondrian's last and maybe most famous painting 'Victory Boogie Woogie'. A piece of art only consisting of the colours red, blue and yellow, with white, grey and black accents. It's the buzz and the dynamic of the New York's metropolis you see in the painting. During this evening The Hague's city centre will colour red, yellow, blue, black, grey and white and will celebrate the night with shops that are open until midnight, in store activities and extraordinary entertainment on the streets. Experience the buzz of a night in New York together with Piet Mondrian.
Shop till you drop
The party starts at 17.00 o'clock and won't stop until midnight. The entrepreneurs will welcome you in their shops with cocktails, in store DJ's, bites and nice shopping activities such as high discounts and great shop entertainment. Have a look at the programm below.
Zo ziet de avond er uit / This is what the evening looks like